Sports
Sports
Anaheim~The La Mirada High Boys Basketball team picked up where they left off last season by winning their first game of the 2015-16 campaign in a convincing 87-62 win over Paramount in pool play at the Canyon/Esperanza tip-off classic.
Serra transfer Ian Carter scored 12 points and Anthony Newman seven in the first quarter as the Matadores jumped out to a 27-15 lead.

Carter finished with 25 points total, Newman had 18 and Dylan Banks added 17 for the defending Suburban League and State Champions.
The Matadores (1-0) will take on Northwood tonight at 7:30 at Canyon High School.

Vittorio Reynoso-Avila, one of La Mirada's top seniors, and potential Princeton product, has been sidelined until January 6th with a broken metatarsal in his foot, his father told the La Mirada Blog.
120215 23:12 UPDATE: The Matadores beat Northwood 65-63 on a driving layup by Dirk Helaire as the game winded down.
120315 22:40 UPDATE: La Mirada improved to 3-0 by beating Servite 59-55.
120415 19:56 UPDATE: The Mats improved to 4-0 on the season by beating Canyon 70-54. Anthony Newman lead all scorers with with 26. Dirk Helaire at 14, Ian Carter 12 and freshman Bryce Craver had nine.They will play in the Canyon/Esperanza Tournament championship game after sweeping through the brackets, Saturday, December 5th at 7:00 p.m. vs. Long Beach Jordan at Canyon High School.
120515 20:21 UPDATE: La Mirada improved to 5-0 on the season by beating Long Beach Jordan 85-76, capturing the Esperanza/Canyon Tip Off Classic title.

Sports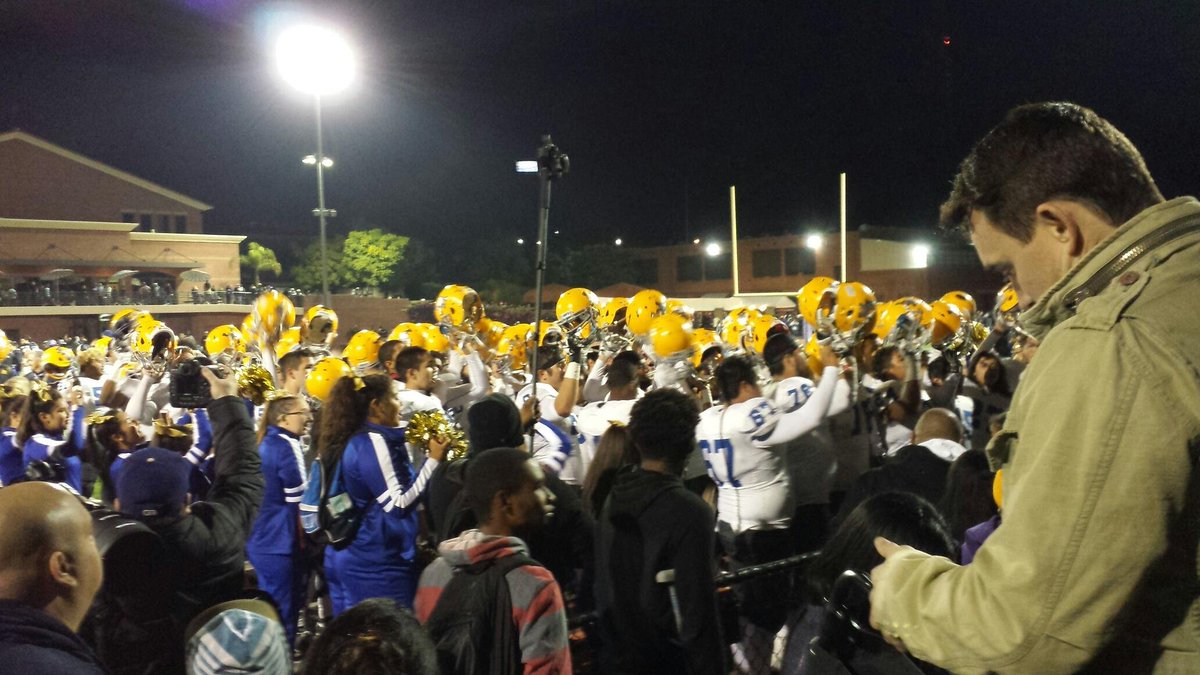 The La Mirada High Matadores celebrate in Los Angeles this past Friday night after their convincing victory over Cathedral. Photo (c) La Mirada Blog 2015-courtesy D. Barrett.

Los Angeles~The La Mirada High Football team will be heading to the CIF finals after beating Cathedral this past Friday night 38-7 in the southeast semifinal in Los Angeles.
Sei-J Lauago rushed for 188 yards on 24 carries and scored three touchdowns as the Matadores return to the finals for the first time since 2012.
La Mirada (10-3) returns home to take on La Serna (11-2) for the Southern Section Southeast Division title this Saturday night at 7:00 p.m. at Goodman Stadium.
UPDATE 120515 22:21: The Matadores beat La Serna 45-20 to capture their first CIF title since 2009. Sei-J Lauago rushed for 300 yards and scored three touchdowns.The Matadores earn a spot in a State Regional Bowl game, taking on Oceanside at home December 11th beginning at 7:00 p.m.

Sports
La Mirada~This past Tuesday night, a journey that's taken 1,255 games and 38-plus seasons hit another major meaningful milestone as Head Coach Dr. Dave Holmquist became the eighth collegiate men's basketball coach to hit 900 career coaching victories.

A 79-60 victory over the Bethesda Flames at home got coach Holmquist to the big number as the 2015-16 Biola Eagles team improved to 9-1 to start the season.

"It feels great to have done this with so many people who have been here over the years," said Holmquist. "I have so many good memories about so many former players and teams, and I feel very grateful that I was able to stay at one place for so long."

Holmquist is in his 36th season at the helm of the Eagles and 39th season overall. He began his career in 1975-76 as he coached the first of his three years overseeing the Fresno Pacific Sunbirds.

The win even more firmly secures the coach's place in history as he reaches a 900 win club that includes the likes of Mike Krzyzewski, Jim Boheim, Don Meyer and Bobby Knight.

The next illustrious head coach that Holmquist will pass on the all-time wins list is the legendary former Indiana Hoosier head coach, Knight. Three more victories this year would move Holmquist past Knight's 902 and into seventh place all-time. Holmquist is already the winningest active coach in the National Association of Intercollegiate Athletics Division I, and he was inducted into the NAIA Hall of Fame in 2002.

"This is such a good place to work," said Holmquist. "It's a place where people want to help you. I've been blessed to work here at my school. I feel so fortunate to have the job I've had and coach the people I have. I just feel very blessed."
Sports
ROTARY ASSISTS GOOD SAM PANTRY – Members of the Rotary Club of La Mirada donated $1,100 worth of Thanksgiving turkeys, canned goods and other items to the Good Sam Pantry at Beatitudes Church in La Mirada. Pictured are (l to r) Chris Robinson, Rick Jones, John Lewis, Tom Polley, Jose Lombera, President Russell Hall, Hal Malkin and Sean Bracey. The donation, which was made possible by a grant from the Walmart Community Foundation, is one of several Rotary projects to assist needy families.
La Mirada~The Rotary Club of La Mirada marked the Thanksgiving holiday by donating $1,100 in turkeys, canned goods and other food items to the Good Sam Pantry at Beatitudes Church in La Mirada.

The donation, which was funded in part by a grant from the Walmart Community Foundation, purchased complete holiday meals for 40 families.

Rotarians purchased the food at the Walmart Neighborhood Market, located at Imperial Highway and La Mirada Boulevard, on the morning of Thursday, Nov. 19. The food was then distributed to needy families that afternoon by volunteers at the Good Sam Pantry.

Rotary plans to donate a similar amount of meals for local families prior to the Christmas and Easter holidays.

The Rotary Club of La Mirada performs a variety of community service projects throughout the year. The group meets on Wednesdays at 12:30 p.m. at the Elephant Bar Restaurant on Firestone Boulevard North in La Mirada. Visitors are welcome to attend.
Sports
Matadores lose coin flip; southeast semi-final to be hosted by Cathedral
Compton~La Mirada beat Dominguez last Friday night 55-13 in the CIF-SS Southeast Quarterfinal and will advance to a semifinal for the first time since 2012.
The Matadores will travel to Cathedral High School in Los Angeles for the Friday contest after losing the coin flip conducted by CIF officials this past Saturday morning.
The game never seemed to be close after Sei-J Lauago ran back the opening kickoff 95 yards for a touchdown.
After taking a 31-7 at halftime, the Matadores held Dominguez at bay in the second half with a defense that continues to surge.
Tristan Meyer, the starting junior home-grown quarterback for the Mats completed 9 of 15 passes for 205 yards in his first taste of post-season football as the starter.
Dominguez had 250 rushing yards compared to La Mirada's 136, but had only 31 total yards passing.
La Mirada had only 80 more total yards than Dominguez, 341 to 261 and the Dons actually possessed the ball more; with the Matadores holding the ball for a little over 28 minutes and the Dons having the ball a little over 19.
La Mirada Head Coach Mike Moschetti downplayed the significance of playing on the road this Friday, "We don't care where we play."
Including his first two seasons as co-coach with Ollie Lynch, Moschetti has reached the CIF playoffs all eight seasons as head coach of the Matadores and has captured the Suburban League title in six of those eight years including a CIF title in 2009 with Lynch.
Before Moschetti came aboard, La Mirada hadn't won a league title in eight years.
Also, La Mirada now owns the state record for consecutive section playoff appearances at 36 after Long Beach Poly was declared ineligible following the forfeiture of games this season. The two teams had been tied since 1980.
Sports
Coach retires from La Mirada High after over 40 years of coaching locally; interviews for new coach begin next week

La Mirada~After 17 years as head coach of La Mirada High School Softball, Rich Trujillo has decided to "take a break," and will not return next season.
"It's been a lot of fun and I'm glad to have been part of it. I appreciate the opportunity," Trujillo told us via telephone," whoever takes over I wish nothing but success and good luck and if there is anything I can do to help out I will."
Co-Athletic Director at the school Jimmy Zurn told us the job for new head coach will be posted this week and interviews are scheduled to begin the week of August 3rd.
The school still lists Trujillo as the head coach on their website.
Trujillo said his phone has been busy, "I'm getting lots of calls from (former) players and their families."
Trujillo's Lady Mats appeared in three CIF Southern Section Finals, unfortunately falling short each time.
La Mirada won the Suburban League championship 13 of the 17 years with Trujillo at the helm.
Before coaching at La Mirada, Trujillo coached four years at Cypress College garnering a state championship.
Sports
La Mirada~Plans are in the works for the La Mirada Blog to begin a print edition of this website in 2016.
Sports
Dallas, TX~Nic Hernandez and Ryan Candelario, both of La Mirada, helped soccer club AC Brea Premier clinch the 2015 Boys Under-14 Championship of the prestigious Dr. Pepper Dallas Cup, held last week in Texas.

After going 3-0 to win their bracket, Brea survived overtime in three consecutive matches before defeating FC Dallas Pre-Academy, 1-1 (4-2 in Penalty Kicks).

Candelario scored three goals in the tournament, while Hernandez helped anchor a defense that allowed only three goals in regulation over the six games played in the tournament.

The Dallas Cup started in 1980 and is an invitation only tournament held Easter Week of every year featuring marquee teams and talented up-and-coming players from around the world, in seven age categories from U-13 to U-19.
Sports
Berkeley~The La Mirada High Boys Basketball won their first state title late Saturday afternoon, beating Archbishop Mitty of San Jose 71-70 in a double overtime thriller.
The Matadores (31-5) seemed destined for a loss when they fell behind 50-38 in the third quarter, but they outscored their opponent 22-10 to send the game into overtime tied at 60.
The two teams tied each other in the first overtime and Kai Labasan hit the winning free throw in the second extra frame to secure the triumph.

The Matadores hit 14 three-point baskets in their victory and in winning the title set a school record with 31 wins.

Sports
Berkeley~The La Mirada High Boys Basketball team will attempt to capture their first state title in school history as they take on Archbishop Mitty of San Jose at the Haas Pavilion on the UC Berkeley campus beginning at 4 p.m. Saturday.

The broadcast of the game, on DirectTV Channel 698, will be shown at Draft Picks Sports Grill and Tom's Tailgate in La Mirada.

Also, by watching the game at Draft Picks and Tom's you can support La Mirada Basketball by just saying "Go Matadores" when you order and twenty percent of your bill will go back to the program.

Explore
Recent posts