Sports
Sports
Olympic Gold and Silver Medalist, Jennie Finch, is bringing her softball camp to La Mirada Saturday and Sunday, January 21-22, 2017. The 2-day camp geared toward girls age 8-18, will take place at La Mirada High School, Jennie's alma mater. All aspects of the game are covered by professional, Olympic, and college softball players and coaches, including hitting, fielding, pitching, catching and base running. Campers receive lunch each day, a camp t-shirt, autographed photo of Jennie, certificate of participation, and a photo taken with Jennie and her medals.

Finch has been conducting camps across the nation since 2004, reaching thousands of young girls with her positive approach to the game and life off the field. Finch said, "The goal of our camps is to inspire young girls to dream big and believe in themselves on the field and in life. The lessons we learn on the field as an individual and part of team transfer to situations we face in life."
The La Mirada camp will include Olympians Leah Amico and Crystl Bustos, professional player and high school coach Toni Mascarenas, and pitching coach Doug Finch, inventor of the Finch Windmill. The Biola University softball team will be assisting with camp instruction.
Finch Career Highlights include: 2004 Olympic Gold Medalist, Athens, Greece; 2008 Olympic Silver Medalist, Beijing, China; 2001 NCAA Champion, University of Arizona; 2-Time National Collegiate Softball Player of the Year, 2001 & 2002; 2005-09 National Pro Fastpitch player, Chicago Bandits; 4-Time Suburban League Champion at La Mirada High School.
Camp runs Saturday (8a-3p) and Sunday (9a-2p), January 21st-22nd at La Mirada High School, 13520 Adelfa Drive in La Mirada. Drawing prizes each day. Cost is $205 and registration is online at jenniefinch.com.
Sports
Interview on our radio show last night was apparently his last as official head coach

La Mirada~Mike Moschetti has resigned as head football coach at La Mirada High School according to a story broke by Aram Tolegian of the San Gabriel Valley Tribune.
As a quarterback in 1992 Moschetti led the Matadors to a CIF Championship. He returned to his alma mater as a coach in 2008 and helped the guide La Mirada to another CIF Championship in 2009 and a state regional bowl championship last year. He also won seven Suburban League titles during his tenure.
We interviewed Coach Moschetti last night on The La Mirada Blog Radio Show. We asked him some pointed questions about his career, not knowing the relevance of the timing. We did not know at the time he would be resigning the next day and it would be his last interview as the official head coach for La Mirada High football.
You can hear the interview by selecting La Mirada Blog Show here.

Sports
Biola University's application for membership into the National Collegiate Athletics Association (NCAA) Division II has been approved for the three-year membership process.

"We couldn't be more excited about the news of joining the NCAA Division II," said Biola University President Barry H. Corey. "Membership will allow Biola to become part of an organization that aligns closely with our vision and values. I believe we have a great deal to offer one another."

Approval by NCAA officials is the culmination of a several-year effort on the part of Biola administrators. After careful consideration of the value of changing athletic affiliations, the Board of Trustees voted in January of 2015 to pursue NCAA membership. Under the leadership of Biola Director of Athletics Dr. Bethany Miller, the University prepared and submitted its application in January of this year, and underwent an NCAA campus review in April.

Biola, which has been affiliated with the National Association for Intercollegiate Athletics (NAIA) since 1964, has seen its accomplishments on the field increase in recent years. The university reached an athletic milestone last season when for the first time in program history its teams earned a spot inside of the top-10 in the Learfield Sports Directors' Cup rankings. In addition, Biola's athletic teams won five Golden State Athletic Conference championships during the 2015-16 season.

The Eagles will continue as an active member of the GSAC conference and the NAIA for the 2016-17 school year while completing Provisional Year One with the NCAA. Beginning in Provisional Year Two (2017-18), Biola will join the Pacific West (PacWest) Conference and compete with schedules made up of NCAA opponents. With successful completion of Provisional Year Three (2018-19) of the membership process, the Eagles will gain full, active NCAA DII membership and become eligible to compete for NCAA Division II championships beginning as early as 2019-20.

The PacWest Conference is made up of 14 member institutions and sponsors 15 NCAA Division II sports. The conference is made up of institutions based in Southern California, Northern California, Hawaii and Utah. Biola will join a conference featuring former GSAC rivals Azusa Pacific, California Baptist, Concordia-Irvine, Fresno Pacific and Point Loma.

"The NCAA Division II is a great fit for Biola University," said Miller. "The strong emphasis on student-athlete academic success, community engagement, and competitive excellence aligns with our philosophy to develop student-athletes in Christ like character and to thrive at Biola and beyond. We have much to accomplish during our Provisional Membership period, and we are committed to becoming a model Division II institution."

Biola Athletics sponsors 19 varsity intercollegiate athletic programs (nine men's, 10 women's). Over the past five seasons Biola's athletic teams won 10 GSAC championships and four GSAC tournament championships, sending 44 different teams to their respective NAIA national tournaments. Over the previous three years, Biola's student-athletes have accumulated 102 NAIA All-American honors and 234 all-conference honors.

"Biola is ready for the next era of competition in intercollegiate athletics," said Corey.
Re-posted with permission, (c) Biola University

Sports
Whittier~Paul Tully and AJ Rivas from La Mirada High School will participate in the 49th 605 All-Star Football Classic Friday, June 3rd.
The game, pitting schools on the east side of the 605 freeway against teams on the west side, was started in 1967 by the Whittier Kiwanis Club and showcases high school seniors many playing in their last game.
This year, the game has been moved to Pioneer High's new Titan Stadium. Game time is 6:05 p.m.

Sports
Former Athletic Star and USA Olympian will have her jersey retired at a ceremony at La Mirada High School. Photo jenniefinch.com.
La Mirada~Eighteen years after she graduated from La Mirada High School , La Mirada native and softball great Jennie Finch will be returning to the Matador diamond to have her jersey retired.
Finch's number 27 will be honored in a ceremony Tuesday, March 22nd at 3:00 p.m. After, she will throw out the first pitch before the Matadores key rival game vs. Mayfair High School.
An 80's kid, she was born and grew up in La Mirada. She began pitching at age eight, trained by her father when he noticed she had "a cannon of an arm." She played on many traveling ball clubs before high school, winning two American Softball Association Titles, one at age 12 and the other at 14.
At La Mirada High she graduated in 1998 and lettered four times in softball and twice in basketball and volleyball. As a senior she was captain in all three sports.
She finished her career in softball at La Mirada with a 50-12 record, four Suburban league titles and an ERA of 0.15 including 784 strikeouts in 445 total innings pitched. She had six perfect games and 13 no-hitters.
She went on to play for the University of Arizona for four years where she left the program the career leader in strikeouts, shutouts, innings pitched and tied for no-hitters (8). Her jersey #27 was retired by the university in 2003.
For Team USA, Finch led the American team to a gold medal in the Olympic Games at Athens in 2004 and a silver medal at Beijing in 2008.
At the La Mirada ceremony, she is expected to attend with family and friends and be presented with a framed jersey, according to first-year head coach Brent Tuttle.
Tuttle also said Finch purchased a set of uniforms for the varsity team this year.
The event is open to the public.
Sports
Fullerton~The turnaround is complete. Biola Men's Basketball once again reigns supreme in the Golden State Athletic Conference as Dr. Dave Holmquist's boys clinched the conference tournament title with a 60-52 victory over No. 7 Hope International last Tuesday night.
"We just have one great thing after another happening for us," said Holmquist. "To win on their court against a very good, well-coached team feels great."
Eight points was the largest lead either team had the entire night in what will go down as another absolute GSAC Instant Classic. This Instant Classic just so happened to be seen live by a crowd of about 2,000 and delivered to living rooms all across Southern California courtesy FOX Sports Prime Ticket.
Shining bright in the biggest moment, a huge defensive performance from start-to-finish and team effort on the offensive end carried the Eagles, the regular season champions, to the tournament title as well. It is the team's first tournament title since 2011-12 and clinches the team's first berth at the NAIA National Tournament since that same year.
Throughout this journey Dr. Holmquist continues to remark on is just how close this team is, how much they care for one another and how much fun they have together. All three of those aspects were on full display for the audience throughout this evening's battle.
Sports
BIOLA ATHLETICS

La Mirada~Before the season began in October the coaches in the Golden State Athletic Conference voted and picked Biola Men's Basketball to finish fifth in the conference standings.
After a 4-12 GSAC run in 2014-15, this Biola Eagles team smashed all preseason expectations and on Saturday became the 2015-16 GSAC Champions. It's Biola's first GSAC regular season title since 2001-02 and solidifies the Eagles' place as the front-runner to win the conference tournament and earn a bid to the NAIA National Tournament.
On Saturday night, the Eagles completed its 27-3 run through the regular season with 65-59 win over No. 5 Hope International to clinch the conference title and finish with a regular season conference record of 14-2.
"I feel great," said Head Coach Dr. Dave Holmquist. "I've coached here 36 years and I've never been more proud of a team than this one. I think this win tonight is just a reflection of the kind of effort and character these players showed all year long."
The crowd inside Chase Gymnasium was shattering decibel levels throughout the night as the large contingent of Biola supporters and much smaller group of Hope International fans battled back and forth to support their respective sides.
A three-point make from Ryan Swain opened the scoring in the first minute of play. Those points gave Biola an instant lead, a lead that would carry throughout the entire 40 minutes of play as the Eagles never trailed.
Never losing the lead was not indicative of exactly how the night played out, as a well-coached HIU team kept tensions running high and the score close throughout.
Sports
La Mirada~Goodman Stadium will be the site once again as the La Mirada High Matadores football program attempts to capture its first-ever state title this Saturday night as they take on NoCal regional champ Campolindo in the Division III-AA championship game.
The Matadores are riding a 12-game winning streak since losing to San Clemente 42-26 on September 18th.
La Mirada reached the title game after beating Oceanside last week in a SoCal regional contest 36-14.
The rushing of star running back Sei-J Lauago and a staunch defense has allowed La Mirada to roll over their opponents.

In what seemed like the pinnacle of the season at the time, La Mirada beat La Serna 45-20 on December 5th to capture their third CIF Southern Section championship and first since 2009. Coach Mike Moschetti has had a hand in all three (one for each of the last three decades), including as a player in 1992.
Campolindo, a defending state champion, is riding an 11-game winning streak. The champions of the Diablo Foothill League, the Cougars (14-1) last loss was also on September 18th, a 20-14 setback against Napa.

The state bowl system was reconfigured this year. It was expanded from five to thirteen games, allowing for more opportunities for schools to get titles. Consequently, there are more schools than ever playing this late into the year.
The Matadores will take a state championship anyway they can get it, "This is something we have wanted for a long time," said Moschetti.
Game time Saturday at Goodman is 6:00 p.m.

Sports
Anaheim~The La Mirada High Boys Basketball team picked up where they left off last season by winning their first game of the 2015-16 campaign in a convincing 87-62 win over Paramount in pool play at the Canyon/Esperanza tip-off classic.
Serra transfer Ian Carter scored 12 points and Anthony Newman seven in the first quarter as the Matadores jumped out to a 27-15 lead.

Carter finished with 25 points total, Newman had 18 and Dylan Banks added 17 for the defending Suburban League and State Champions.
The Matadores (1-0) will take on Northwood tonight at 7:30 at Canyon High School.

Vittorio Reynoso-Avila, one of La Mirada's top seniors, and potential Princeton product, has been sidelined until January 6th with a broken metatarsal in his foot, his father told the La Mirada Blog.
120215 23:12 UPDATE: The Matadores beat Northwood 65-63 on a driving layup by Dirk Helaire as the game winded down.
120315 22:40 UPDATE: La Mirada improved to 3-0 by beating Servite 59-55.
120415 19:56 UPDATE: The Mats improved to 4-0 on the season by beating Canyon 70-54. Anthony Newman lead all scorers with with 26. Dirk Helaire at 14, Ian Carter 12 and freshman Bryce Craver had nine.They will play in the Canyon/Esperanza Tournament championship game after sweeping through the brackets, Saturday, December 5th at 7:00 p.m. vs. Long Beach Jordan at Canyon High School.
120515 20:21 UPDATE: La Mirada improved to 5-0 on the season by beating Long Beach Jordan 85-76, capturing the Esperanza/Canyon Tip Off Classic title.

Sports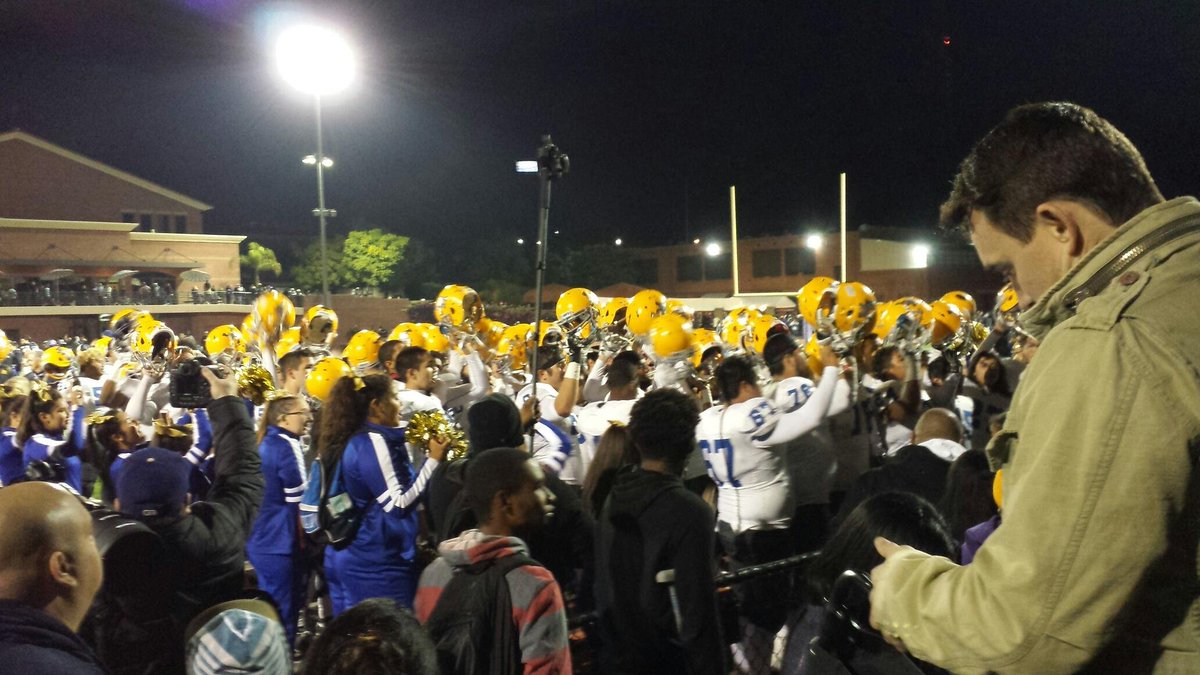 The La Mirada High Matadores celebrate in Los Angeles this past Friday night after their convincing victory over Cathedral. Photo (c) La Mirada Blog 2015-courtesy D. Barrett.

Los Angeles~The La Mirada High Football team will be heading to the CIF finals after beating Cathedral this past Friday night 38-7 in the southeast semifinal in Los Angeles.
Sei-J Lauago rushed for 188 yards on 24 carries and scored three touchdowns as the Matadores return to the finals for the first time since 2012.
La Mirada (10-3) returns home to take on La Serna (11-2) for the Southern Section Southeast Division title this Saturday night at 7:00 p.m. at Goodman Stadium.
UPDATE 120515 22:21: The Matadores beat La Serna 45-20 to capture their first CIF title since 2009. Sei-J Lauago rushed for 300 yards and scored three touchdowns.The Matadores earn a spot in a State Regional Bowl game, taking on Oceanside at home December 11th beginning at 7:00 p.m.

Explore
Recent posts